Wine Experience & Bathe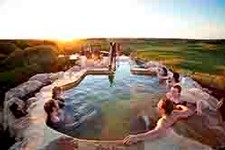 This year we have partnered with our friends at Peninsula Hot Springs to bring you a convenient package that combines two must-do local attractions; wine tasting and natural hot springs.
The package provides you with a tailored wine tasting at the Crittenden Estate Wine Centre. This experience takes you on a journey as we explore your wine tastes and preferences. Whether it be our signature cool climate wines or some of our more alternative Italian varieties, there is much for a wine lover to discover.
As part of your package you will also receive Bath House priority bathing pass This exclusive pass means there is no need to pre-book your bathing time in advance, you can arrive at the Bath House when it best suits you. Your bathing pass provides you with single entry and full access to the Bath House bathing facilities featuring over 20 globally insprired experiences including thermal mineral pools, hilltop pool, cave pool, Turkish steam bath and underground sauna.
Important - Please bring your email receipt (either printed or on your phone) as proof of purchase to the Crittenden Wine Centre. You must visit the Wine Centre FIRST where you can collect your Hot Springs Bathing Pass. You will not gain entry to Peninsula Hot Springs without presenting your priority pass. Bookings at either venue are not necessary but please take note of opening hours.
$70 per person, includes a seated wine tasting at the Crittenden Wine Centre, a bottle of wine of your choice from our Geppetto Range and entry into the Bath House at Peninsula Hot Springs.