Project 49 Wine Alliance Dinner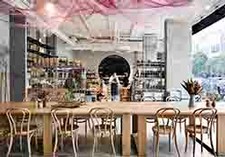 Project 49 is a new venue in Collingwood and we love what they're about. Owners Rocco Esposito and his wife Lisa Pidutti are based in Beechworth where they have a café also called Project 49. Their Collingwood venture is a fabulous space that integrates a deli, café and restaurant. The food is wholesome country with an Italian slant.
On Saturday 29th July 2017 we are hosting a dinner at Project 49 for Wine Alliance Members only. Details as follows:
Wine Alliance members plus a maximum of 3 guests
6:30pm for a 7pm start
Project 49 – 107 Cambridge St Collingwood 3066
Four courses plus cheese matched to Crittenden Wines
$115 per person
Tickets include entry into the Crittenden Estate pop up cellar door that runs at Project 49 throughout the weekend. See here for details about the pop up cellar door but please don't purchase a ticket if you're planning on coming to the dinner!
Please note that you must be logged in as a member in order to purhcase tickets. Alternatively, call the Wine Centre on 035987 3800 and staff members can process payments over the phone. You may also email Zoe at zoe@crittendenwines.com.au with further queries, to book tickets or with dietary restrictions. You must be a member in order to book tickets.
Tickets will not be posted out but can be printed when emailed to you or your name will be recorded in our system.