Stiletto Sisters at Crittenden Estate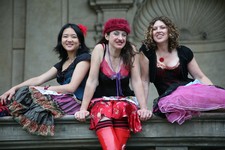 The RACV Music for Victoria program in regional Victoria is a series with a diverse range of music styles delivered by some of Victoria's finest artists and ensembles, in partnership with the Melbourne Recital Centre. Here at Crittenden Estate we are delighted to have been chosen as one of the regional hosts and are very excited to be welcoming "The Stiletto Sisters" for one glorious outdoor performance on October 22nd.
The Stiletto Sisters have been wooing audiences in their home town of Melbourne for the past 12 years with their seductive blend of Hungarian gypsy, tango and love songs from around the world. Led with breathtaking virtuosity by Hungarian trained violinist Hope Csutoros (My Friend the Chocolate Cake) the trio also includes the dynamic piano accordion playing of Judy Gunson (Cosmo Cosmolino) and the wonderful talents of Jo To on double bass. The Sisters perform with extraordinary emotional range from extreme delicacy to blazing intensity and more than a touch of humour. Their performances do come with a health warning: the velvety seduction of their 3-part harmonies on Latin, Yiddish and Hungarian love songs has caused many to faint with delight!
To see one of their recent performances at the Melbourne Recital Centre click here
Come and appreciate their harmonic sounds whilst soaking up the atmosphere of the pristine grounds of Crittenden Estate with a glass of the Estate's cool climate renowned wine in hand. What better way to spend a lazy Sunday afternoon in Spring?
Tickets must be pre-booked. Performance begins at 4pm and gates open at 3:30pm. There will be a short interval and approximately two 40 minute halves.
Crittenden Wine Centre 25 Harrisons Rd Dromana.
Please also take note of the following:
Ticket price includes entry and wines will be available throughout the concert to purchase by the glass.
Tickets are unable to be sent via mail. Please print and bring them along with you or alternatively, have them ready on your phone display upon entry
Seating on the day is not allocated
If you have a disability or are in a wheelchair we can accommodate you however would appreciate you letting us know prior so we can make arrangements.

Ticket price includes performance only. This is not a Crittenden Event where food is featured.
Stiletto Sisters at Crittenden Estate is supported by RACV Music for Victoria, and the Victorian Government through Creative Victoria.