Join Rollo Crittenden & Australian Culinary Legend, Jacques Reymond for Dinner or Lunch at Frédéric.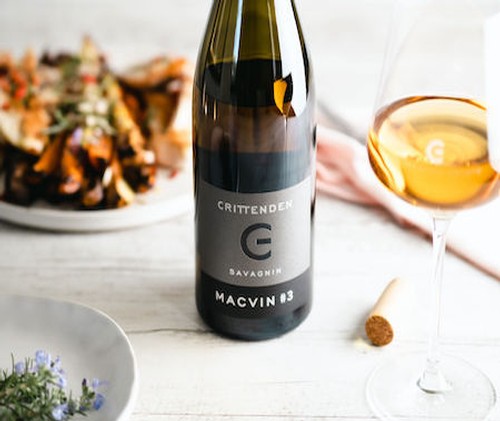 You're invited to a very special dining experience at Frédéric, in Cremorne, Melbourne for dinner on 16 August or lunch on 21 August.
Jacques Reymond will return to the kitchen to serve a menu true to his place of birth in the Jura mountains of France.
The food is designed to pair perfectly with Crittenden's savagnin wines & yet-to-be releases Cri de Coeur Chardonnay and Pinot Noir wines, plus a selection of Jura wines to highlight the unique characteristics of this lesser known part of France.
Rollo will guide you through the wines & flavours as he reveals Crittenden's own journey with the Jura & the evolution of our savagnin wines.
If you had the chance to read Max Allen's review of the Cri de Coeur wines, which he enjoyed over lunch at Frederic, you'll know this will be a dining experience you won't want to miss.
Tuesday, 16 August 2022
From 7pm
$195.00 per person
Six courses with matching wines
Sunday, 21 August 2022
From 12.30pm
$195.00 per person
Six courses with matching wines

The Menu
Marinated Mountain River Trout with Savagnin and juniper berries, crème fraîche aux herbes
2013 Crittenden Cri de Coeur Savagnin
2017 Crittenden Cri de Coeur Savagnin
˜
Fricassée of snails in Savagnin court bouillon and Morteau smoked sausage, walnuts, comté, pâtes de Savoie
Vol au vent chicken au vin jaune, truffes noires
2016 Crittenden Cri de Coeur Savagnin
˜
La Pôchouse au Chardonnay and sorrel
2020 Crittenden Cri de Coeur Chardonnay
2019 Frederic Puffeney 'Tradition' Chardonnay
˜
Mustard crust spatchcock and embeurrée of savoy cabbage, verjus
2020 Crittenden Cri de Coeur Pinot Noir
2019 Domiane Mouillard Trousseau
˜
Pain grillé, vache qui rit, aged Comté, roasted hazelnuts, honey du Jura

Gratin of silverbeet, potato, pork belly and Morbier cheese
2019 Domaine Rolet Poulsard
˜
Crème brulée au Macvin and vanilla
Crittenden NV Macvin #3
Tissot Macvin du Jura
If you have any questions about the menu, wines or your booking please contact Federic directly. You can book online at frederic.com.au or please phone (03) 9089 7224 / email hello@frederic.com.au

The Halliday Wine Companion 2023 was released on 4 August 2022 and we were thrilled to learn we had retained our Red Five Star Winery Rating and achieved four gold medal scores and eight silver medal scores.
This year wines from the Mornington Peninsula region were reviewed by Jane Faulkner for the 2023 companion. The Cri de Coeur wines featured will be available to purchase from 27 August 2022.
Here are some of the highlights...


2017 Crittenden Cri de Coeur Savagnin Sous Voile - 97 Points, Gold
Bearing witness to a wine's creation – as in tasting all since its inception in 2011 and understanding the story behind sous voile – allows a picture to form. Winemaker Matt Campbell is credited with kickstarting the revolution à la Jura at Crittenden Estate and all I can say is, thank you. Oh and '17, the finest to date. Spending nearly 4 years under flor and matched to an excellent vintage has created a complex, savoury and utterly compelling wine. Expect a harmony of grilled almonds, toffee praline, salted lemons, poached quince with mouth-watering, heady aldehydes. The palate is incredibly silky and long, yet has lots of tangy acidity too; it's elegant and importantly, ultra-fresh and alive. What a wine. Alas, just 800 bottles made.

Crittenden Cri de Coeur Macvin #3 - 96 Points, Gold
The 3rd rendition is created with a blend of 50% flor-aged savagnin from the excellent 2017 vintage and savagnin grape juice from 2021, fortified with grape spirit then left in barrel for 10 months. It's come together superbly. An enticing amber hue with dried pears, toast and honey, then pear juice and toasted pain d'épice flavours tantalise. The palate is luscious and sweet yet balanced with acidity; there's a fine if slippery texture across the palate. Hard to put the glass down.

2020 Crittenden Cri de Coeur Chardonnay - 95 Points, Gold
Whole-bunch pressed to French oak barriques (60% new) for wild ferment, 80% undergoing mlf, and 11 months' aging. I can only imagine how tight and linear this would be without the mlf and new oak, as it's still taut and bristling with nervous energy. It needs more time to add some flesh to its fine shape. A hint of grilled nuts and creamy lees bind to the lemon and white nectarine flavours. Racy across the palate thanks to the acidity, which keeps this bright and the finish long.

2021 Crittenden Estate Pinot Gris - 95 Points, Gold
It's always a go-to gris, because aside from the varietal inputs, it's a terrific drink. Honeysuckle, ginger spice, nashi pear and lemon-cream tart. Luscious across the palate, yet finishes with a gentle acid freshness.

2021 Crittenden OGGI - 95 Points, Gold
Oggi, (Italian for 'today'), can be made to the whim of the winemakers, experimenting with different varieties and/or techniques each vintage – small-batch winemaking, really. For '21, it is a blend of 62/38% pinot grigio/white muscat, vinified separately, on skins for 2 weeks, fermented wild, aged in used barriques for 10 months, mlf, then blended just before bottling. It's a coppery orange colour and so fragrant (via the muscat) with honeysuckle, musk, lychee and a burst of spices. The palate has plenty of grip, a sway of phenolics adding texture and intrigue, plus flavours of blood orange and Angostura bitters. It's super-dry. A fabulous aperitif style. Bravo.
Below is an excerpt from Max Allen's article published in The Australian Financial Review on Friday, 8 July 2022.
You will enjoy reading the full article, but we'd like to share a few snippets with you prior to the release of our Cri de Coeur wines in August 2022.

The first vintage of the Sous Voile savagnin at Crittenden Estate was in 2011, and it came about by accident - or rather, by expedience.
Back in the early-2000s, the Crittendens - like dozens of other Australian winemakers - had planted a few rows of a promising alternative Spanish white grape variety called albarino at their Peninsula vineyard. Except it wasn't albarino. In 2009, a visiting French grapevine specialist broke the news to them at what they had in their vineyards was in fact savagnin. From the Jura.
But Crittenden Estate assistant winemaker Matt Campbell knew what to do with the now correctly identified grapes.
"It was serendipitous," says Campbell. "I'd tasted vin jaune on a trip to France a few years before: visiting a friend one day. I was sitting on the swing in the back garden when her in-laws brought out this Comté and a bottle of vin jaune. I tasted them together and thought holy crap, what's this?"
...
Which is why, in 2011, Campbell left a barrel of the Crittenden dry white savagnin un-sulphured, which encouraged a veil of flor yeast to grow on the surface of the wine inside the cask.
...
Not surprisingly given its unusual character, Sous Voile [savagnin] is a wine that took time to build a following. But recent vintages have attracted serious critical acclaim. The 2016 was named Best Drink in Australia at the 2021 Drink Easy Awards in Adelaide, judged against other wines, spirits, beers, etc - and it now sells out every year, with demand outstripping supply.
"It's been amazing," says (Rollo) Crittenden. "Absolutely amazing. As a wine that started out as a mistake, it's one of the greatest mistakes that has ever happened to us."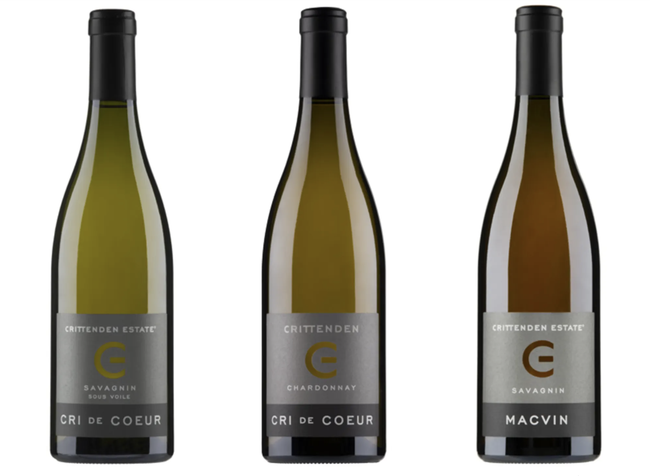 2017 Crittenden Estate Cri de Coeur Savagnin Sous Voile
Despite the extended ageing "under veil", this wine is still bursting with plenty of gorgeous grapey, tangy savagnin fruit, all intense fleshy yellow peach and a line of citrus, with the yeasty flor notes more a background hum than foreground feature. Beautiful now, but will also age gracefully: the 2013 is slowly becoming more savoury, more complex, developing layers and layers of yeasty flavour, with years ahead of it, and I see the 2017 maturing in a similar way.
2020 Crittenden Cri de Coeur Chardonnay
It wasn't only savagnin-based wines that we tasted with Jacques Reymond's food: this vivid, lemony chardonnay was also exquisitely paired by the chef with a dish called La Pôchouse, from the chef's village of Cuiseaux in Jura – a perfectly baked piece of John Dory in a sorrel sauce, the just-set richness of the fish proteins and tanginess of the sharp-tasting sorrel a perfect match with the wine.
Crittenden Estate Cri de Coeur Macvin #3
This is the third release of the Crittenden version of Macvin, a sweet-yet-savoury wine served as an apéritif or with dessert in Jura. The Crittendens make theirs by blending dry, flor-aged Cri de Coeur savagnin with fresh golden savagnin grape juice, adding a little neutral spirit, and ageing the resulting blend in barrels before bottling. Raisiny and caramel-rich, but also a little briny and yeasty, thanks to the flor component, it was lovely with Reymond's Macvin-flavoured crème brulée. It's also great with a Vache Qui Rit toastie.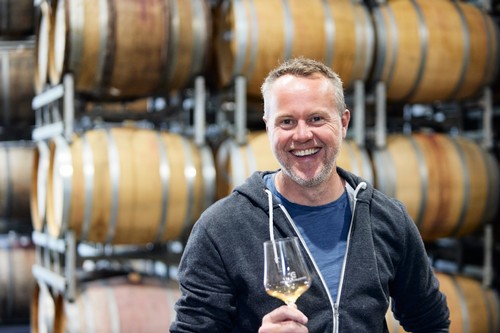 Join us on Sunday June 12th for Crittenden's Queens Birthday Long Weekend celebrations with winemaker Rollo Crittenden, who will be hosting seated Masterclasses throughout the day. Guests will be guided through a structured tasting of the new release The Zumma wines along with other wines from the Peninsula and Kangerong ranges. The Crittenden Wine Centre will be closed for general tastings on the Sunday in order to host these events, which must be booked prior. In the past events of this nature book out very quickly so ensure you reserve your spot today. Click here for more information.
For further information on the Winter Wine Weekend and other events occuring across wineries on the Peninsula please click here.
Our Cri de Coeur came in at number 76 out of his top 100 Australian wines. Pretty good! James Suckling is a US wine writer - and is very well respected. To make his top 100 is a great achievement. This is what James had to say:
Rollo Crittenden is not afraid to play the long game, and so he nestled this wine under flor for three years in untopped barrels, a mode known as "sous-voile" in France's Jura region. The result is a wildly complex yet precise white that has clear, savory, flor-derived characterwith lemon peel and toasted almond. Fragrant dried brown spices, too. The palate rings clear with a fresh flush of acidity and briny, mineral tones to the zesty lemon flavors, aheadof a smoothly nutty twist to close. So much to like here. Drink now. 96 points
James Suckling
TOP 100 Wines of Australia 2021
Tickets are now on sale for our annual Shakespeare in the Vines Production here on the lawns overlooking the Crittenden Estate lake. We will be hosting Essential Theatre for our fifth year for the production "As you like it". Picnic food available when you book or BYO hamper. No BYO drinks....Click here for bookings and further information.
After announcements yesterday regarding reopening of the state we are delighted to be welcoming guests back for tastings and onsite sales on Saturday 23rd October. We'd encourage customers to book for their tasting online or by phoning 5987 3800. Come and see our cellar door refurb and makeover - photos coming soon!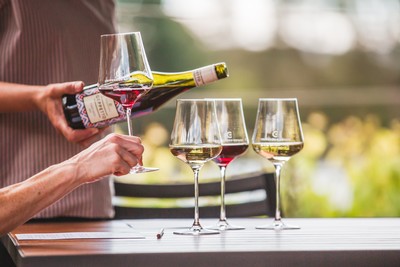 On Friday October 15th, at a virtual ceremony for the 2021 Drink Easy Awards, our Cri de Coeur 2016 Savagnin was announced overall winner and Best Drink in Australia.
"We were absolutely delighted and a little bit stunned to be the recipients of this award. What made this award even more humbling was the fact that the competition spans all beverage genres – from non-alcoholic through to spirits and everything in between. The team at Crittenden would like to thank everyone who has supported us on this crazy journey in producing such a challenging and obscure wine style and in particular to acknowledge the Drink Easy team for championing emerging drinks of all makes and models which may not have a home in conventional circles."
Rollo Crittenden, on behalf of everyone at Crittenden Estate.
For a short four minute video showing the presentation of the award click the following: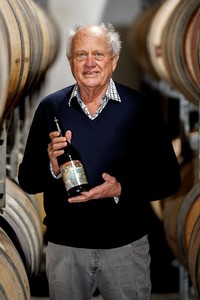 This is a new wine from retired-but-you-can't-stop-him winemaker Garry Crittenden. Garry Crittenden is of course the person responsible for bringing Italian varieties to the masses, so to speak; his work with these varieties was pioneering in this country to say the least. It turns out that, unbeknownst to him, and only recently discovered, his (sadly, late) wife Margaret has Italian ancestry. Her ancestral surname is Catto. This wine is something of a dabble and yet it's also heart and soul stuff, almost by accident.....
This is part of Campbell Mattinson's write up in The Wine Front in October 2021 just after Catto has been released. We think it sums it up beautifully. Read on for the second part of his review:
And what a delightful wine it is. Truly delightful. I'd say that it's arrestingly good save for the fact that it's quieter than that. It has an elegance, unusual for this variety. Leather, raspberry, earth and sweet meat characters flow charmingly throughout, fine fingers of tannin then dancing through the finish. It's the kind of wine you want to buy by the case. Campbell Mattinson The Wine Front

Juicy, spicy, red cherry, kirsch, Righteous start. Flesh and crispness in the palate, tasty lil number with vibrancy and clarity on its side. Very nero vibes. It's a ripping drink. Mike Bennie The Wine Front
The colour is youthfully bright, medium to deep purple/ red, and the nose has peppery, dried-spice savouriness, while the palate reveals sour cherry flavours of good intensity and mouth-filling properties. A scent of raspberry milkshake later. The tannins are present and slightly gritty but do their job discreetly. There's an exotic feel to this wine. It's different. Huon Hooke The Real Review
Click here for links to reviews in full and to purchase Catto.