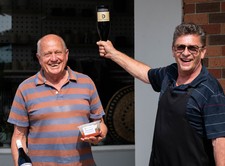 Andrew's Six Pack
Six of Andrew's favourites bundled up with a nice little discount, available exclusively to Andrew's Pizza D'oh Loyalty Club members. Delivered free of charge Australia wide - and next business day if you're on the Mornington Peninsula. Consists of the following wines:
One bottle of Los Hermanos 2019 Saludos
One bottle of Pinocchio NV Prosecco
One bottle of Peninsula 2019 Pinot Gris
One bottle of Pinocchio 2019 Rosato
One bottle of Peninsula 2018 Pinot Noir
One bottle of Geppetto 2019 Shiraz
Feel free to phone Vanessa or Guy on 5987 3800 if you'd like to make any adjustments to the pack and swap some wines around. You may not be on the exact same page as Andrew when it comes to wine picks - and we can certainly cater for that! See below for descriptions of the wines:
Los Hermanos 2019 Saludos
More a wine for enjoyment than analysis, our Saludo lives up to its namesake as the perfect salute to a classic Basque white. A floral nose makes a seamless transition to fruit on the palate while the ever important, 'spritzy' acidity brings the mouth to life.
Pinocchio NV Prosecco
The aroma is punctuated by the classic varietal fragrance of fresh apple blossom, nashi pears and lemon zest. The mouth is full and lightly creamy with a refreshing citrus drive and vibrant long lasting bead (bubbles).
Peninsula 2019 Pinot Gris
Savoury aromatics of musk and spice with textural flavours of pears and lemon juice.
Pinocchio 2019 Rosato
Rose is one of the most versatile and enjoyable styles around, offering as it does a great compliment to Asian dishes or just a refreshing drink on a hot summer's day.
Peninsula 2018 Pinot Noir
Ideal ripening conditions and minimal yields have also contributed a level of complexity and a bright ruby red colour which further enhance the length and ageability of the wine. The texture is rich and structured with soft tannins and a good acid finish.
Geppetto 2019 Shiraz
A wine of vibrant colour with lifted berry fruits and spice on the nose. On the palate you'll find mouth filling structure, juicy acidity and those most desirable of attributes: cherries, pepper and liquorice.