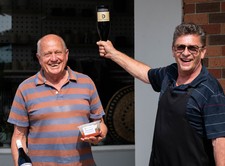 Andrew's Six Pack
Six of Andrew's favourites bundled up with a nice little discount, available exclusively to Andrew's Pizza D'oh Loyalty Club members. Delivered free of charge Australia wide - and next business day if you're on the Mornington Peninsula. Consists of the following wines:
One bottle of Los Hermanos 2019 Saludos
One bottle of Pinocchio NV Prosecco
One bottle of Peninsula 2019 Pinot Gris
One bottle of Pinocchio 2019 Rosato
One bottle of Peninsula 2018 Pinot Noir
One bottle of Geppetto 2019 Shiraz
Feel free to phone Vanessa or Guy on 5987 3800 if you'd like to make any adjustments to the pack and swap some wines around. You may not be on the exact same page as Andrew when it comes to wine picks - and we can certainly cater for that!