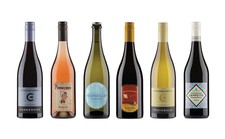 Crittenden Wine AFCM Mixed Six Pack
As a part of the AFCM "live streaming" concert series the Crittenden Family is delighted to offer this six pack which highlights a range of our finest wines.
Five of the six have been hand-picked by the performing artists to show how wine and music provide a harmonious accompaniment for one another. As part of the performance they will expand on why they have matched their particular wine to their program.
Simply add this product to your shopping cart to have your pack delivered free of charge and at a very attractive (one off) 25% price concession to friends of the AFCM.
Of course - if six bottles isn't enough - you can order as many packs as you like!
Then sit back, wait for the wine to arrive, and enjoy it with your friends during each performance.
Pack includes the following wines:
One bottle Kangerong 2018 Pinot Noir
One bottle Pinocchio 2019 Rosato
One bottle Pinocchio NV Prosecco
One bottle Los Hermanos 2019 Tempranillo
One bottle Peninsula 2018 Chardonnay
One bottle Geppetto 2019 Shiraz
Free delivery Australia wide.
Finally - if you'd prefer a different selection of wines in your pack we are more than happy to accomodate. Simply phone 03 5987 3800 and we will pop together a pack that suits you with the equivilent 25% discount.