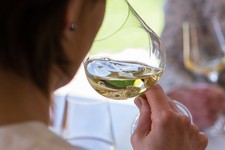 New Release Cri de Coeur Masterclass 3:30pm
EXTRA MASTERCLASS DUE TO POPULAR DEMAND!
Upon announcing our Cri de Coeur Masterclasses the allocated seating was taken up within days, if not hours. A number of people who missed out were left disappointed, so we've listened to requests and have some great news....Rollo has agreed to do one more class! This one will be at 3:30 in an identical format to the other two. If you are interested in coming, please book quickly as it will sell out. See details below:
Join Rollo Crittenden in a seated Masterclass as he goes through each of the new release Cri de Coeur wines, including the much anticipated 2019 Cri de Coeur Chardonnay and 2019 Cri de Coeur Pinot Noir.
The tasting will also include the Cri de Coeur Savagnin and Macvin, along with a surprise wine from Rollo's cellar. Rollo will detail how each of these interesting wines are made, ensuring the session is not only enjoyable but also informative.
Limited seating, book early to avoid disappointment.
3:30pm Sunday May 16th.
Please allow 60 - 90 minutes for the tasting.
Free to Wine Alliance Members, $45 non members.
Bookings essential.
(Should we need to cancel the event due to Covid complications, we will attempt to reschedule. If the rescheduled time does not suit you, we will refund your money).
Members please note - as a member you are entitled to 2 x free tickets. Further tickets may be purchased for $45. If you are unsure of how to book (members should have received a code for this event via email) then please contact us.
​zoe@crittendenwines.com.au or 035987 3800.
Ticket to New Release Masterclass
We apologise but tickets for this event have now sold out.