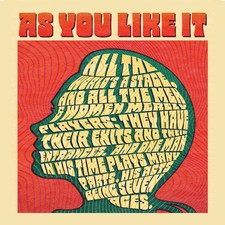 Shakespeare in the Vines - As You Like It
IMPORTANT INFORMATION - AS YOU LIKE IT HAS BEEN POSTPONED - IT IS NOW MARCH 14TH NOT JANUARY 16TH
Essential Theatre is back with their 20th anniversary season of Shakespeare in the Vines. What better way to celebrate this enormous milestone than with a brand new production.
As You Like It brings all of Shakespeare's best ideas together in one masterful play of love, betrayal, mischief, and foolery, and features some of the most iconic and memorable Shakespearean lines ever spoken.
Led by experienced theatre makers Amanda LaBonte & Sophie Lampel, Essential Theatre re-interpret classic texts for modern audiences delivering vibrant and engaging productions. They strip back any preconceived ideas as to how Shakespeare "should" be presented and create productions accessible and enjoyable for all. Experience has taught them how to juggle inclement and unpredictable weather, noisy cockatoos, stray dogs and most importantly how to celebrate the brilliant words of William Shakespeare.
Come along for a wonderful night of entertainment, wine and food. See below for food options - or bring your own picnic, no BYO alcohol. Gates open at 4pm, performance starts at 5pm.
Monday 14th March (Labour Day)
Crittenden Estate - 25 Harrisons Rd Dromana
Performance 5pm - (gates open 4pm)
Pre-ordered food is now available to purchase (only once you have bought your tickets). We are partnering with The Filling Station who has a Savoury Box for Two and a Sweet Box for Two available to pre-order. Please note that food will not be available to purchase on the night, it must be pre-ordered. Click on the hyperlinks above for more information.
TERMS AND CONDITIONS
Please note this important COVID information:
Those who are eligible for vaccination must be double vaccinated to attend the performance. Vaccination Certificates or medical exemptions will be checked upon arrival.
Other Important details:
You are welcome to bring your own picnic and there will also be food available for purchase. We must emphasize - NO BYO ALCOHOL.
A range of Crittenden wines will of course be available by the glass and bottle as you settle in for an afternoon of joy and entertainment on the rolling lawns overlooking the Estate's picturesque lake.
Children 5 and under are free of charge.
Gates open at 4pm and the performance will begin at 5pm.
Tickets will be emailed and can be printed and shown on the afternoon. Alternatively you can have your tickets ready on your phone when you arrive. Tickets are unable to be posted to you.
There is no formal seating available, please bring your own low chair or picnic blanket. Note that those who bring chairs will be seated in the chairs only areas towards the back. Blankets only towards the front. You will be directed as to where to sit according to what you choose to bring and we appreciate your cooperation with this.
Shakespeare in the Vines at Crittenden Estate, 25 Harrisons Rd Dromana