Déjà vu Dining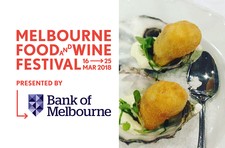 Saturday 17th March 2018, 6:30pm for 7pm.
Let us take you back to an original winemaker dinner....
In 1993 during the Melbourne Food and Wine Festival's first year of celebrations, Romain Bapst (now of Lutece, Brisbane) was head chef at the iconic "Mietta's" in Melbourne. A successful Winemaker Dinner was held featuring the exquisite French fare that Mietta's was so well known for, matched to Garry Crittenden's wines. It was, of course, a sell out and the beginning of an era of successful winemaker dinners that we still enjoy today.
Join Garry and son Rollo along with Romain as together they replicate this exact dinner at Crittenden Estate. Same menu, same chef, same winemakers. Same incredible experience. This event is a part of the iconic Melbourne Food and Wine Festival.
Five courses of exquisite food matched to Crittenden wines. $140 all inclusive.
(please note - if you have particular seating requirements then please email zoe@crittendenwines.com.au. Tables will be shared)