Hot Savoury Box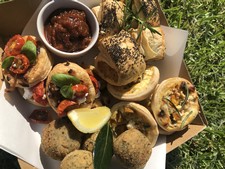 Hot Savoury Box - at Shakespeare in the Vines
The "Hot Savoury Box" contains an array of the following:
- Roasted tomato galette with balsamic caramelised onion, basil and goats cheese
- Mushroom, tarragon and parmesan arancini
- Pumpkin, feta and rosemary tart
- Sausage rolls with slow cooked chutney
Will come with napkin and all required eating utensils.
IMPORTANT INFORMATION
Please nominate how many people the box is for... One box serves one person so if you'd like it to serve four then please order a total of four boxes by adding "4" to your shopping cart. Boxes will be adapted accordingly.
The box in the photo is for two people.
Note that boxes may be subject to small changes depending on availability of produce.
Only available to collect on 13th January 2019 at Shakespeare in the Vines.
Please ensure you print your receipt to claim your food on the day. We will be unable to provide food without proof of purchase!
Food items purchased are non refundable.
Other food items available: