Pre Vintage BBQ 2018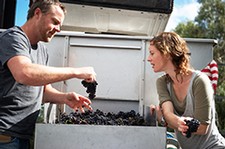 Saturday February 10th 12pm - 4pm
Hosted in the barrel hall of the winery this invitation is extended to Wine Alliance members and their guests and for $65pp is fully inclusive of:
- Aussie-smoked, American-style BBQ prepared by Blue Bonnet BBQ
- Wines by the glass on the day including some new releases
- Live music
- Special event pricing for all wines purchased to take home on the day (wines to accompany lunch are included in the $65)
Please note that no tickets will be sent in the mail despite what the shopping cart might indicate. You are welcome to print the tickets and bring them along on the day but we will also have a list of names at the door if you forget.
Some dietary restrictions can be catered for; please email Zoe with the details to establish whether possible.