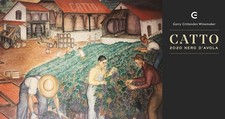 Catto 6 Pack
This legendary Italian variety has its origin near the town of Avola in southern Sicily.
"Over the years I have drunk many Italian Nero d'Avolas and never cease to be amazed that grapes from such a warm latitude can produce wines of such elegance and finesse, always bright and fresh with astonishing crimson luminescence, somewhere between say a Pinot Noir and a Shiraz." Garry Crittenden
This one is true to style. A pretty, floral and spicy nose with lots of red fruits. The flavours on the palate are mouth-filling, juicy and finish with eastern spices.
With each six pack of Catto purchased you will receive a booklet detailing the origins of the Catto label and a little more information about my own role in the development of Italian Varietals in Australia.
Purchase this six pack of Catto and receive free delivery Australia wide.
If you wish to purchase Catto in a mixed pack please contact us on 03 5987 3800 or winecentre@crittendenwines.com.au to arrange.