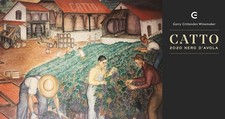 Garry's Catto 6 Pack
Catto - normally $180 (6 pack) - your price $144
With each six pack of Catto purchased you will receive a booklet detailing the origins of the Catto label and a little more information about my own role in the development of Italian Varietals in Australia.
Note: The price of this 6 pack is just for you - as a friend of mine. I'd appreciate it if you didn't forward the link to anyone else.
If you wish to purchase Catto in a mixed pack please contact Vanessa or Jade on 03 5987 3800 or winecetre@crittendenwines.com.au. They can build a pack of wine to suit your tastes with the Catto included. Mention you're a "special friend of Garry's" and they will ensure you are taken care of!
Garry Crittenden