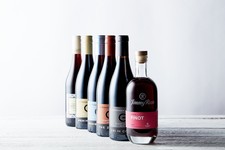 Jimmy Rum x Crittenden Estate - 4 dozen members
Here at Crittenden Estate we make 5 Pinot Noirs. This pack contains one bottle of each of them, along with a bottle of JimmyRum Special Edition PINOT, made using our Pinot Noir fruit.
JimmyRum "PINOT" (RRP $95) Distilled Cane Sugar made using Crittenden Pinot Noir fruit from the 2021 vintage.
Cri de Coeur 2019 Pinot Noir (RRP $85) "Brightness and flavour plus a lovely sheen to the textural tannins. There's a lot of power to this wine, yet it seems to have been harnessed...Fragrant, compelling and juicy..." (Halliday Wine Companion 2022)

The Zumma 2018 Pinot Noir (RRP $57) "An even ebb and flow of pinosity… a pleasing and abundant depth of flavour. Not too big, just right." (Halliday Wine Companion 2022)

Kangerong 2020 Pinot Noir (RRP $45) "More upfront and fruit prettiness this vintage. Textural tannins and a sweet flourish give the impression to drink this now.…" (Halliday Wine Companion 2022)

Peninsula 2019 Pinot Noir (RRP $34) "This sits in the right place.. it's juicy and bright, works off a medium-bodied frame full of cherries and spiced strawberries. Tannins are soft, so too the acidity. A pinot for today." (Halliday Wine Companion 2022)

Geppetto 2020 Pinot Noir (RRP $26) Fresh berry fruit and supple tannins but still retains a lively acidity attributable to the ideal growing season. (Rollo Crittenden - Winemakers Tasting Notes)
Not exactly what you want? Give us a call (03 5987 3800) and we can tailor something for you.
Free delivery Australia wide.
(Note: the picture below is for those on the Mornington Peninsula only who receive it hand delivered - if elsewhere in Australia your wine will be posted via Australia Post in a normal upright six pack):