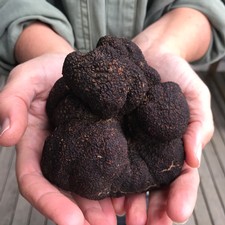 Main Ridge Truffle
NOT FOR SALE ONLINE - PLEASE PHONE TO ORDER
Truffles from our neighbours Main Rridge Truffles to accompany your wine delivery!
Available to Mornington Peninsula residents only.
Please phone to order and for further details. We have them available at various sizes priced at $2.50 per gram. An average truffle we have would be 15 - 30 grams but bigger ones are available (minimum size is 10g).
Normally supplied only to restaurants it is now truffle season so we are jumping on board to assist this fabulous local business who needs to find another avenue to sell their truffles!
Phone 5987 3800 to order.
MAIN RIDGE TRUFFLES
Main Ridge Truffles was established in 2010. A local family owned business growing the finest quality black Victorian winter (Périgord) & white (Bianchetto/Borchii) truffles on an organic farm on the beautiful Mornington Peninsula. In the rich clay soils of the Peninsula's Hinterland, Main Ridge Truffles produces world class truffles. Their incredible aroma & flavour is on par with anything you'd find in Europe or closer to home in WA or TAS.
Under the cover of Oak (English, Holly & Cork), Pine (Stone) & Hazelnut trees these black & white treasures are unearthed each winter. Hunted out by the family dog (Italian Lagotto - truffle hunting dog) 'Pino' with some help from some trusty Australian Koolies. They are then carefully excavated from the soil, cleaned and ready to be served at your table. Harvested weekly on the farm in Main Ridge from June to August.
The season is now in full swing. Usually supplying the Mornington Peninsula & Melbourne's finest restaurants the Covid lockdown has greatly affected the supply chain, but comes as a bonus to the public who are now able to access these delicious black morsels. Home chef's it's over to you to transform your winter repertoire.
Simply grate (all you need is a microplane) onto your favourite cheese and enjoy of course with a glass of Crittenden wine! Infuse some eggs and make truffle flavoured poached, scrambled or even an omelette (Neil Perry has a wonderful recipe). Try your hand at a decadent truffle cheese toastie. Add to your mash, top a pizza or use in a risotto or pasta dish. Truffle also adds that extra dimension when grated or shaved onto a piece of sliced meat or cooked shavings under the skin of a chicken or spatchcock. You can even add it to vodka for a new flavoured drink. The internet is overflowing with this wonder ingredient and the taste sensation is not to be missed during the winter months.
Truffle can be stored in an air tight container in the fridge for up to 7-10 days (or an air tight bag bag in the freezer for up to 3 months), but unlikely you'll have any left once you start to enjoy ;) Why not treat yourself to this affordable luxury during lockdown! Discover the magic of Main Ridge Truffles exceptional quality, taste and aroma. Truffles and wine is a true match made in heaven.