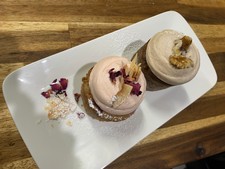 Sweet Box from The Filling Station
Sweet Box For Two - Shakespeare in the Vines - January 16th 2022
We are delighted to be partnering with The Filling Station this year who will be supplying food for our event on January 16th and have put together a scrumptious Sweet Box for two.
Order in conjunction with the Savoury Box for two for a full picnic meal that will complete your Shakespeare experience!
Don't forget that wine and other drinks will be available to purchase at the event - NO BYO alcohol is allowed.
The Sweet Box for Two consists of the following:
Rhubarb, rosewater, raspberry and coconut cake
Carrot cake with cinnamon cream cheese icing
Please note the following -
* We apologise but this year are unable to cater for any dietary restrictions.
* Boxes MUST be pre-ordered, food will not be available to purchase at the event.
* Have your food receipt - emailed to you upon purchase of this product - ready on your phone or printed in order to collect your boxes on the day.
* The Sweet Box is suitable for two guests. If you are buying for four, simply purchase two boxes! Or however many you might need.
* This product is only available at our Shakespeare in the Vines event on January 16th. You must have purchased tickets to this event prior to purchasing pre-ordered food.