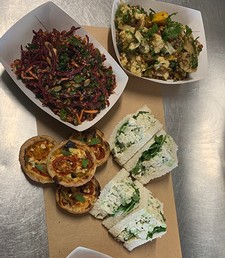 Savoury Picnic Box from The Filling Station
Savoury Picnic Box For Two - Romeo and Juliet - January 31st
We are delighted to be partnering with local cafe, The Filling Station this year who will be supplying food for our event on January 31st and have put together a scrumptious Savoury Picnic Box for two.
Order in conjunction with the Sweet Box for two for a full picnic meal that will complete your Shakespeare experience!
Don't forget that wine and other drinks will be available to purchase at the event but NO BYO alcohol is allowed.
The Savoury Box for Two consists of the following:
- Chicken, celery and lemon mayo sandwich points
- Tomato, feta, capsicum and basil tarts
- Roast pumpkin, cumin roasted cauliflower and sorghum salad
- Beetroot, carrot, quinoa, kale, chickpea, parsley, mint, lemon and olive oil salad.
Sustainable corn starch cutlery etc will be supplied in your box.
Please note the following -
* We apologise but this year are unable to cater for any dietary restrictions.
* Boxes MUST be pre-ordered, food will not be available to purchase at the event.
* Have your food receipt - emailed to you upon purchase of this product - ready on your phone or printed in order to collect your boxes on the day.
* The Savoury Box is suitable for two guests. If you are buying for four, simply purchase two boxes! Or however many you might need.
* This product is only available at our Shakespeare in the Vines event on January 31st. You must have purchased tickets to this event prior to purchasing pre-ordered food.