18 July 2019 | Zoe Crittenden
Aperitivo in August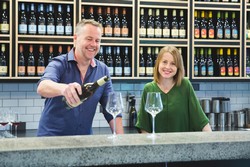 Every Friday, Rollo will head into the cellar of over 1000 wines to open back vintages of our acclaimed Pinot Noir, Chardonnay and Cri de Coeur collection, plus some Italian & Spanish wine varieties.
Wine lovers will enjoy the chance to try limited release and museum wines not normally available at usual cellar door tastings. Order by the glass or sample a wine flight of Rollo's selections that he'll pick each Friday, alongside an antipasto plate of cured meats, olives and cheese from our favourite local producers on the Peninsula.
FRIDAYS IN AUGUST
4.30pm-6.30pm
Cellar Door open late for wines from the 'Old & Rare Cellar', current releases
Wines from $12 per glass
Antipasto plate for two $20
Drop on in….
Comments
Commenting has been turned off.