21 December 2020 | Zoe Crittenden
Best provenance, best white and top 50 vineyards.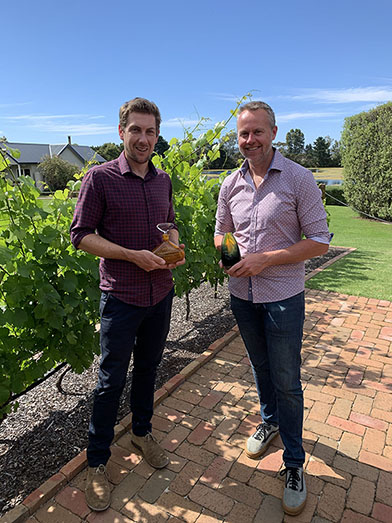 Ending the year on a good note…
2020 is a year we're all going to be happy to draw a line through, but as the year draws to a close, we've been humbled to receive some welcome good news with a swag of different accolades. The recognition is always a lovely reward for our sustainable viticultural endeavours and hard work in the winery.
2020 Mornington Peninsula Wine Show
This annual event sees Mornington Peninsula wine makers invited to submit samples for judging under national show conditions by an expert panel. Amongst some gold and silver medals, we were honoured to receive two Show trophies:
Chardonnay Provenance Award - The Zumma Chardonnay
Judged across three separate vintages from a single vineyard, awarded for quality and consistency spanning all three wines. We submitted the 2014, 2017 & 2018 of The Zumma (named after Zoe's childhood nickname) grown from our Estate grown fruit from vines in excess of 30 years of age.
Best White Varietal – Cri de Coeur Savagnin
This variety – a signature of Rollo's winemaking toil and innovation - continues to receive critical acclaim with our just released 2016 vintage awarded the overall Best White Varietal at the show.
Plus, we've just been named in the Top 50 Finalists in the inaugural Vineyard of the Year.
A national initiative by the Young Gun of Wine, this new award program aims to shine a light on Australia's best vineyards – the places where wine comes from, practices of sustainable grape growing and the pursuit of fruit and wine quality. With over 6,000 grape growers around the country to consider and hundreds of entries, being recognised amongst the finest fifty vineyards is an honour. It also reflects our family's passion and connection to the land and our philosophy that good wine always starts with the soil. Read more about the Vineyard of the Year here and our entry, that details our vineyard and sustainable grape growing approach, can be read here.
Comments
Commenting has been turned off.