8 July 2022 | Zoe Crittenden
Comté and vin jaune: An Australian winemaker's tribute to Jura
Below is an excerpt from Max Allen's article published in The Australian Financial Review on Friday, 8 July 2022.
You will enjoy reading the full article, but we'd like to share a few snippets with you prior to the release of our Cri de Coeur wines in August 2022.

The first vintage of the Sous Voile savagnin at Crittenden Estate was in 2011, and it came about by accident - or rather, by expedience.
Back in the early-2000s, the Crittendens - like dozens of other Australian winemakers - had planted a few rows of a promising alternative Spanish white grape variety called albarino at their Peninsula vineyard. Except it wasn't albarino. In 2009, a visiting French grapevine specialist broke the news to them at what they had in their vineyards was in fact savagnin. From the Jura.
But Crittenden Estate assistant winemaker Matt Campbell knew what to do with the now correctly identified grapes.
"It was serendipitous," says Campbell. "I'd tasted vin jaune on a trip to France a few years before: visiting a friend one day. I was sitting on the swing in the back garden when her in-laws brought out this Comté and a bottle of vin jaune. I tasted them together and thought holy crap, what's this?"
...
Which is why, in 2011, Campbell left a barrel of the Crittenden dry white savagnin un-sulphured, which encouraged a veil of flor yeast to grow on the surface of the wine inside the cask.
...
Not surprisingly given its unusual character, Sous Voile [savagnin] is a wine that took time to build a following. But recent vintages have attracted serious critical acclaim. The 2016 was named Best Drink in Australia at the 2021 Drink Easy Awards in Adelaide, judged against other wines, spirits, beers, etc - and it now sells out every year, with demand outstripping supply.
"It's been amazing," says (Rollo) Crittenden. "Absolutely amazing. As a wine that started out as a mistake, it's one of the greatest mistakes that has ever happened to us."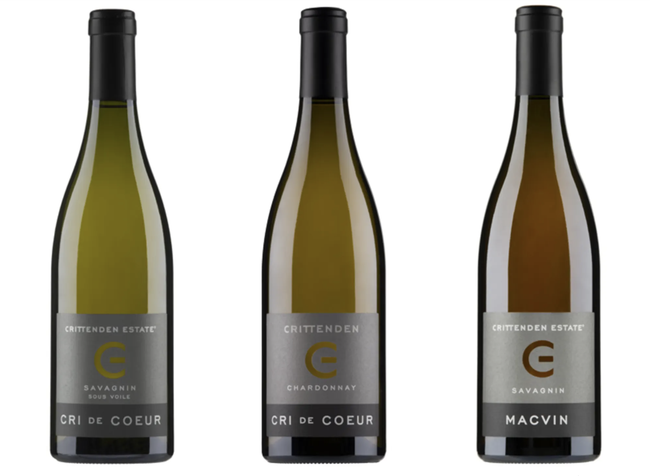 2017 Crittenden Estate Cri de Coeur Savagnin Sous Voile
Despite the extended ageing "under veil", this wine is still bursting with plenty of gorgeous grapey, tangy savagnin fruit, all intense fleshy yellow peach and a line of citrus, with the yeasty flor notes more a background hum than foreground feature. Beautiful now, but will also age gracefully: the 2013 is slowly becoming more savoury, more complex, developing layers and layers of yeasty flavour, with years ahead of it, and I see the 2017 maturing in a similar way.
2020 Crittenden Cri de Coeur Chardonnay
It wasn't only savagnin-based wines that we tasted with Jacques Reymond's food: this vivid, lemony chardonnay was also exquisitely paired by the chef with a dish called La Pôchouse, from the chef's village of Cuiseaux in Jura – a perfectly baked piece of John Dory in a sorrel sauce, the just-set richness of the fish proteins and tanginess of the sharp-tasting sorrel a perfect match with the wine.
Crittenden Estate Cri de Coeur Macvin #3
This is the third release of the Crittenden version of Macvin, a sweet-yet-savoury wine served as an apéritif or with dessert in Jura. The Crittendens make theirs by blending dry, flor-aged Cri de Coeur savagnin with fresh golden savagnin grape juice, adding a little neutral spirit, and ageing the resulting blend in barrels before bottling. Raisiny and caramel-rich, but also a little briny and yeasty, thanks to the flor component, it was lovely with Reymond's Macvin-flavoured crème brulée. It's also great with a Vache Qui Rit toastie.
Comments
Commenting has been turned off.