Jancis, a footnote to your column last Friday about the dilemma facing the Mornington Peninsula.
In September 1982 I planted five acres of vines on my property at Dromana: four of Cabernet, half an acre of Merlot and a quarter each of Pinot and Chardonnay. In so doing I doubled the aggregated plantings of all the vineyard area on the Peninsula at the time from five to 10 acres. (Today there are 2,500 acres.)
They were collectively made up predominantly of Cabernet with a little Chardonnay at Baillieu Myer's Elgee Park, Nat White's Main Ridge (which also had a little Pinot), George Kefford's (Nina Caplan's uncle, I seem to recall) Merricks Estate and Brian Stonier's Stoniers.
I chose to plant Cabernet in particular because of the Cabernets I had seen made by the short-lived but legendary Stephen Hickinbotham from Elgee Park fruit, but also when I did a homoclime study for my location from nearby long-recorded climatic data it clearly said 'Bordeaux', reinforced by the maritime climate as distinct from a Burgundian continental one.
All went along swimmingly, with James Halliday even choosing my second harvest 2005 Cabernet (with no Merlot blended in) to represent Australia in the Qantas Cup, a three-way competition between California, Australia and South Africa, where it performed admirably.
It's worth noting that I had chosen my site at 150 feet elevation based on a long assessment of Peninsula soils, elevations and aspects.
As the years passed and Peninsula plantings increased somewhat randomly, they gravitated towards the higher, cooler elevations where deep red volcanic soils predominate. But still people planted Cabernet, with Pinot just beginning to make some headway. The Cabernets from these locations were routinely picked, of necessity, under-ripe with aggressive tomato leaf and green capsicum characters brought about by the compound methoxypyrazine. This was due to being considerably cooler than the lowlands but also because of the shading of fruit in the canopy caused by uncontrolled vegetal growth.
Not surprisingly the wines were dismissed by the market and even a luminary such as James Halliday said the Peninsula is, quote: 'unsuited to Cabernet'. WHAT??
Our Cabernet sales gradually declined as a result of this mantra but we persevered until our last vintage in 2009, aptly labelled Les Adieux. Back label below.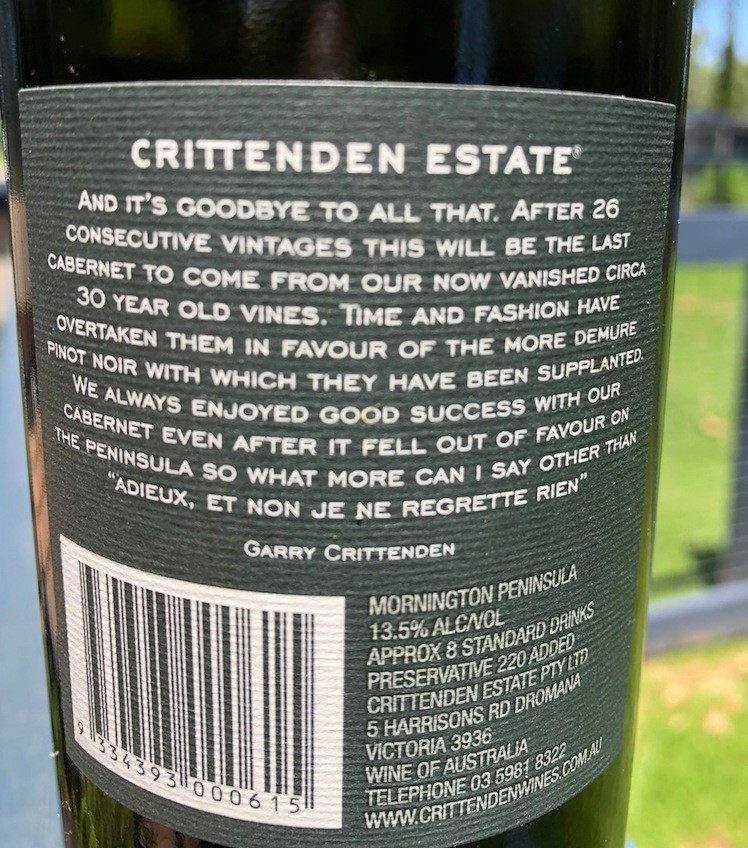 We are now predominantly planted with Pinot and Chardonnay along with with the rogue Albarino/Savagnin and have just grafted the last of our Arneis to Chardonnay as well – but that's another story (told here). And don't get me wrong, happy to be so, but unsure what the long-term effects of global warming hold.
I still delight in pulling out the occasional masked Cabernet from the 1990s for visiting wine trade and commentators only to be told. 'it's very kind of you to pour an old Bordeaux for us but were really here to see what you make from your own vineyard.'
Say no more.
Last week I pulled from my cellar a 2001 Shiraz I made from fruit from a nearby vineyard. Bloody delicious even if I do say so myself.
A couple of other non-related comments.
In the days when I was a viticultural consultant I was approached by Rob Kirby of Village Roadshow asking if I knew of a suitable property he might purchase to grow grapes on the Peninsula. Oddly enough a 100-acre block almost entirely plantable had just come on the market to be auctioned. I had coveted this acreage for years even before I purchased my own modest farm 37 years ago and had long seen it as possibly the best block for grape growing down here. I told Rob about it, and the rest, as they say, is history. Welcome Yabby Lake.
When I was on the board of Domaine Chandon I would occasionally be in Épernay and on one such occasion Richard Geoffroy asked if I would like to meet Dom Pérignon. I was escorted to the inner sanctum where the monk himself sat behind his desk in a cloistered room – a wax effigy that is. Richard took my photo with my arm around the Dom. Even to this day people ask me which one is DP and which one is me.
This was Garry's response to Jancis Robinson MW article, Mornington - the two trick pony