Due to a restriction on numbers the very difficult decision has been made to cancel the 2021 Winter Wine Weekend. If you have tickets to the festival on Saturday 24th July please contact the organisers to determine the processes.
We WILL still be doing the Truffle Dinner on Friday 23rd July at Stillwater. Please see here for bookings and more information.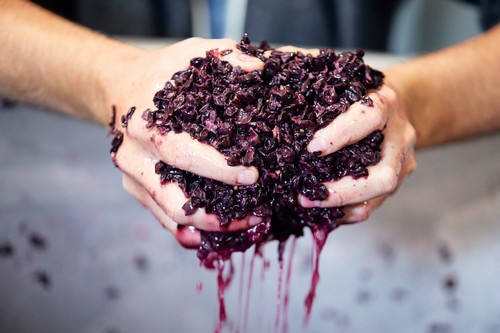 In wine terms, "Vintage" is the harvest of the year's grape crop and making it into wine. It's like the Grand Final for wine producers. All the hard work during the year, nurturing vines and managing the health of the soil and vineyard culminates in a few mad weeks of picking, fermenting, crushing, racking, and all the things that go into making that precious juice....
We loved hosting Mike from One Hour Out over vintage. Spent a lovely morning showing him around and chatting about the things we do here and how we came to arrive at this point, including all things family. Click on the article below to read!
https://onehourout.com.au/melbourne/one-hour-out/food-and-drink/restaurant/vintage-at-crittenden-estate/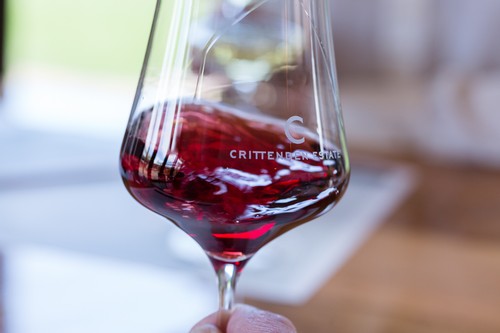 It's always great to see international recognition for the Pinots of the Mornington Peninsula but never more so than when it comes from as prominent a wine commentator as Susy Atkins writing in the UK Telegraph of May 14th.
"Second only, globally, to Burgundy the home of this revered and viticulturally demanding grape" she says.
Click here to read the full article.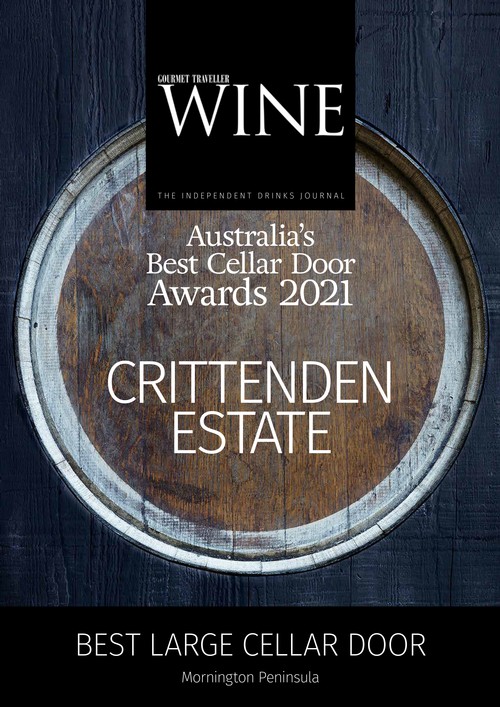 We're very proud to be flying the Mornington Peninsula flag high in this year's Cellar Door Awards – being named the region's BEST LARGE CELLAR DOOR by Gourmet Traveller Wine Magazine.
We don't consider ourselves to be large - in fact in our guided seated tastings we strive for intimacy and engagement, but it's our informally informative approach which most likely appealed to Gourmet Traveller Wine's judges and of course many wine loving visitors we enjoy welcoming every day to Crittenden Estate.
Here's cheers to our Wine Centre Manager, Vanessa Crouse and the team Jade and Ben who ensure a personalised tasting experience for each and every visitor, passionately sharing the stories behind every glass, our sustainable approach to winemaking and their deep knowledge of wine and food matching.
Congratulations as well to fellow Mornington Peninsula wineries recognised in Gourmet Traveller Wine Best Cellar Door Awards with Star Cellar Door, Quealy; Best Small Cellar Door, Kerri Greens, Winery; Best Tasting Experience, Ten Minutes By Tractor; Best Cellar Door with Food, Pt Leo Estate; Best Cellar Door with Additional Experience, Montalto – what a fantastic, must-do list of Cellar Doors to (re)visit in our region!
To read more about the award click here.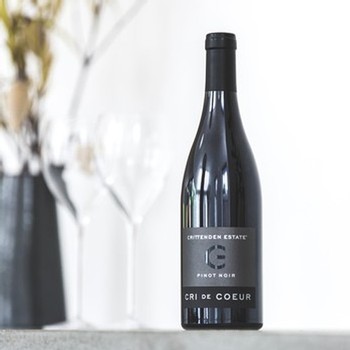 We've had a few of our wines show up in media articles over the last week or two. Read on to see which ones got a mention....
The Nobility of Victorian Pinot Noir - Written by Stuart Knox about Victorian Pinot Noirs. The Zumma 2018 Pinot Noir gets a glowing report. Click here to read.
Gourmet Traveller Wine - Feb/March 2021 edition - Top 100 New Releases features the 2016 Cri de Coeur Savagnin and the 2019 Cri de Coeur Chardonnay each receiving five stars and 95 points. Click here to read about these and other top wines.
And finally, on a more general level, we got a great mention in Richard Cornish's article in The Age on seated wine tastings - see here.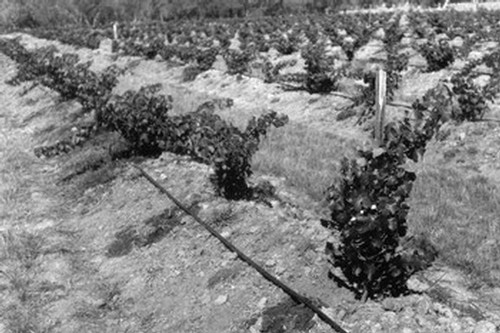 When Garry and Margaret Crittenden first started talking about pinot noir in the early 1980s, a pattern of confusion quickly emerged. 'Pinot what?' was the typical response among local friends and acquaintances. Likewise, many were baffled by the Crittendens' decision to plant vines – of any kind – in the Mornington Peninsula, a region with little wine cred at the time.....
Click here to read this recent article found in MINDFOOD Magazine, written by Kate Symons.

Jancis Robinson, the London based wine commentator, is without question the globe's most highly regarded practitioner in this field at the moment. When she called for entries in her now traditional annual writing competition, this year on the subject of "sustainability" in the world of wine production, Ed Verrill, a two-time vintage worker with us here at Crittenden Estate, quickly put up his hand as an independent observer to write the story of our sustainability journey.
First mentioned on the website last year with links to the Jancis website, Ed's article has now been published in local magazine "Peninsula Essence". To see this, click here.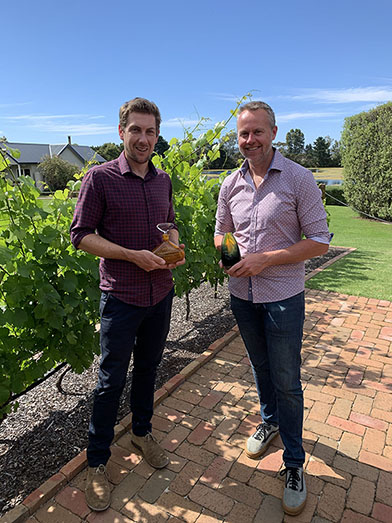 Ending the year on a good note…
2020 is a year we're all going to be happy to draw a line through, but as the year draws to a close, we've been humbled to receive some welcome good news with a swag of different accolades. The recognition is always a lovely reward for our sustainable viticultural endeavours and hard work in the winery.
2020 Mornington Peninsula Wine Show
This annual event sees Mornington Peninsula wine makers invited to submit samples for judging under national show conditions by an expert panel. Amongst some gold and silver medals, we were honoured to receive two Show trophies:
Chardonnay Provenance Award - The Zumma Chardonnay
Judged across three separate vintages from a single vineyard, awarded for quality and consistency spanning all three wines. We submitted the 2014, 2017 & 2018 of The Zumma (named after Zoe's childhood nickname) grown from our Estate grown fruit from vines in excess of 30 years of age.
Best White Varietal – Cri de Coeur Savagnin
This variety – a signature of Rollo's winemaking toil and innovation - continues to receive critical acclaim with our just released 2016 vintage awarded the overall Best White Varietal at the show.
Plus, we've just been named in the Top 50 Finalists in the inaugural Vineyard of the Year.
A national initiative by the Young Gun of Wine, this new award program aims to shine a light on Australia's best vineyards – the places where wine comes from, practices of sustainable grape growing and the pursuit of fruit and wine quality. With over 6,000 grape growers around the country to consider and hundreds of entries, being recognised amongst the finest fifty vineyards is an honour. It also reflects our family's passion and connection to the land and our philosophy that good wine always starts with the soil. Read more about the Vineyard of the Year here and our entry, that details our vineyard and sustainable grape growing approach, can be read here.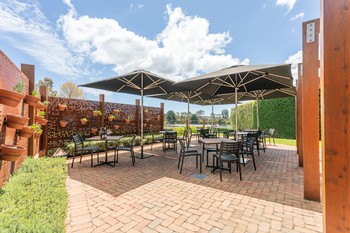 The Crittenden Wine Centre is delighted to be welcoming guests for tastings from Friday 30th October 2020.
Join us in our new outdoor seated terrace area to experience our tastings alfresco style. We will be offering a selection of six wines that give a broad representation of the Crittenden portfolio. Tastings will be $10 per person.
Although not essential we would recommend that you book prior to arrival. Please phone 5987 3800 or email winecentre@crittendenwines.com.au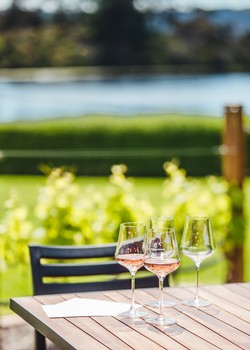 Share in the bounty
Finally, we've had quite a harvest of broad beans thanks to the inter-row cropping program in our vineyard and we wanted to share the bounty. Be sure to ask about our sustainable winemaking practices and enjoy a take home bag of fresh, organic broad beans with any wine purchase made (while stocks last).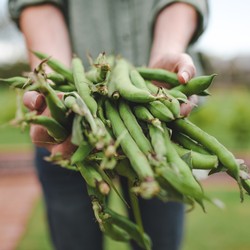 We look forward to welcoming you here soon.

Friend of the Crittenden Family Roberta Muir has been sharing her favourite things to cook (and what to drink with the dishes) — and we wanted to share her recipes here from her popular Food Wine Travel website.

Roberta Muir is a food, wine and travel writer based in Sydney. She has managed Sydney Seafood School, Australia's largest recreational cooking school, since 1997. She holds a Master of Arts degree in Gastronomy from the University of Adelaide and is a qualified sherry educator and cheese judge. Her passion for food, wine and foreign cultures has led her on adventures in Europe, Africa, the Middle East, North America, Scandinavia and South East and Central Asia. Her food blog is well worth subscribing to and recently she mentioned a lovely recipe to pair with our Crittenden Estate Peninsula Rose. See the link to it here - a perfect spring dish!