Jancis Robinson, the London based wine commentator, is without question the globe's most highly regarded practitioner in this field at the moment.
When she called for entries in her now traditional annual writing competition, this year on the subject of "sustainability" in the world of wine production, Ed Verrill, a two-time vintage worker with us here at Crittenden Estate, quickly put up his hand as an independent observer to write the story of our sustainability journey. Ed, an ex London based hospitality worker, introduces himself below as a segue into his story.
An independent panel of qualified judges was assembled to assist Jancis and her team to rate the entries and decide which companies are making major contributions in their endeavours. The organisers were bowled over by the number of entries from pretty well every wine producing country in the world, including four from Australia. Of the 85 entries in the competition 18 were singled out by the judges for 'special mention', and guess what………….we are one of those companies, thanks in no small measure to Ed's light hearted but factual dissertation, (see his closing sentence).
No we didn't win the competition but just to be included in the top entries 18 is reward enough. See here to read Ed's entry.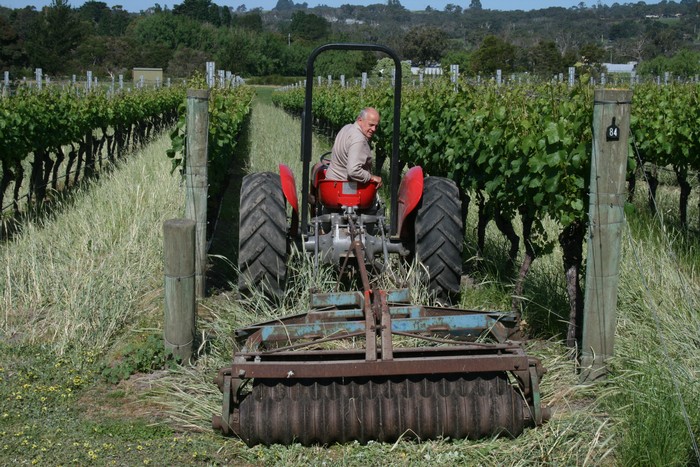 If you feel like having a little sticky beak into Rollo's world; what he likes to drink and places he likes to visit (mainly in non COVID times!), then check out this interview that has been published on the Melbourne Food and Wine Festival Website:

https://www.melbournefoodandwine.com.au/read-watch/latest-news/news/drinking-victoria-rollo-crittenden-821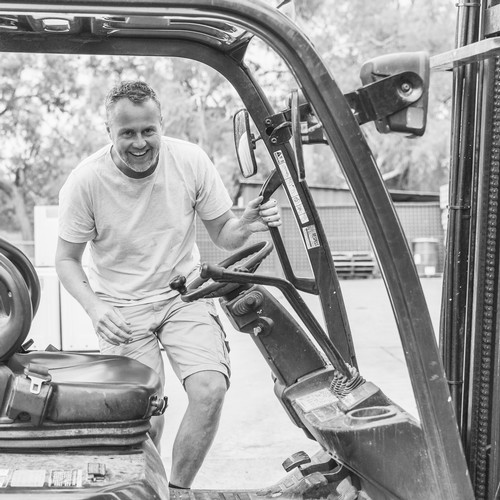 Savagnin has had a troubled past in Australia, but as Jane Faulkner discovers and discusses in this Halliday article, it's well and truly coming into its own. Jane interviews Rollo Crittenden and Matt Campbell and looks at how Savagnin (and in particular ours) has evolved into the wine that it is today - one that is turning heads all over Australia. Given that the Cri de Coeur Savagnin has been said to be "quite possibly the most exciting white wine in Australia" (Halliday Wine Companion 2021) - this article is definitely worth a read! Click here.

The 2021 Halliday wine companion was released on August 5th and to say we were pleased with our results is a little bit of an understatement! In the midst of stage four lockdowns here in Victoria, some good news was a welcome relief and definitely brightened our day. We were delighted to retain our status as a Five Red Star Winery and to even have one of our wines described as being… "quite possibly the most exciting white wine in Australia" Full reviews here.

What started as a neighbourly conversation with another family businesses impacted by Lockdown 2.0 has turned into a collaboration that will take home deliveries to a luxurious new level over the coming weeks.
We've teamed up with Main Ridge Truffles to deliver the ultimate locally grown and made winter pairing, wine and truffles.
The match wouldn't have eventuated if not for the latest restrictions - the winter harvest of truffles usually bound for the city's premier restaurants meant Main Ridge Truffles had a bounty of 'black gold' going to waste; while our cellar door team typically busy hosting tastings are now personally delivering wine to the doors of locals during lockdown.
"We thought it was a great way of coming together to share something extra special with our local community who wouldn't normally have such access to this prized produce grown right here on the Peninsula," says Zoe.
The Wine + Truffle offering is the first time Main Ridge Truffles are bringing their harvest direct to the local public – and it will be available only to Mornington Peninsula residents due to their highly delicate nature where careful transport is key.
"We're all missing that chance to go out and enjoy something special at the moment so being decadent at home by adding truffle to a pasta dish, eggs or steak and enjoying it with a bottle of local wine is about as good as it gets in lockdown!" adds Zoe.
Fresh truffles harvested by Main Ridge Truffles are available (cost $2.50 per gram) to add on to wine orders from our Wine Centre currently providing free, next day deliveries of wine packs to the Mornington Peninsula area. Or you can pop in to pick up if you prefer. Call 5987 3800.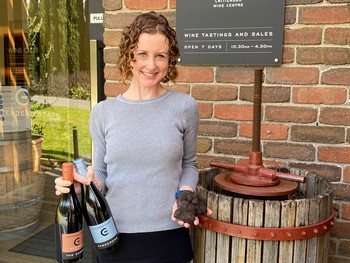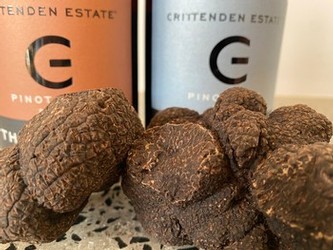 Being noted in the prestigious annual list of Australia's top 400 wineries is a real feather in your cap, so we we're both thrilled and humbled to receive the inclusion. We're also very proud to be amongst three Mornington Peninsula wineries in the top 50.
The 'Top Wineries' list is compiled following around ten thousand blind tastings and rigorous reviews each year. Led by wine critic Huon Hooke, a team of reviewers assess wines from over 1600 Australian wineries to create their annual list of 400 that consistently produce excellent wine. The List has become a national benchmark and shows where your favourite winery is ahead of its peers.
"We're pretty chuffed with the result given the calibre of wineries on the list and the quality of wines being produced around the country right now," says Rollo.
You can check out The Real Review's complete Top Wineries Australia list here:
https://www.therealreview.com/wine-regions/au/top-wineries/2020/
Or a link to the Good Weekend article featured in The Age and Sydney Morning Herald here:
https://www.smh.com.au/national/here-s-cheers-australia-s-52-top-wineries-20200505-p54pul.html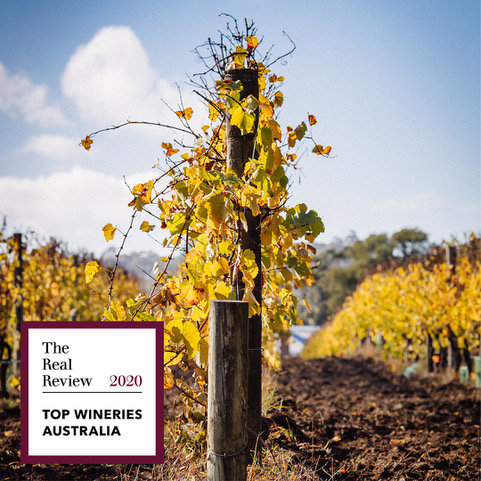 2020 is certainly a winemaking year we won't forget. Happily, the time in isolation has resulted in the exciting news of a brand-new release - our very first Prosecco.
It's no secret our family has a love affair with Italy and Italian varietals, so we wanted to make sure we took our time to perfect our version of this popular sparkling. We've summoned our winemaking knowledge, drawn on our appreciation of old-world techniques and more than one vintage to create our ideal Prosecco style. Our resulting 'Pinocchio Prosecco' accentuates the varietal fragrance of fresh apple blossom, nashi pairs and lemon zest while maintaining an excellent foamy 'bead' and acid freshness on the palate.
Our Prosecco uses 100% Glera grapes (the traditional variety for making Prosecco). Grapes were harvested in the cool of night before dejuicing and settling. Clarified juice was then fermented to 'dryness' in stainless steel tank with an aromatic yeast strain to enhance this variety's floral notes. Malolatic fermentation was inhibited by chilling and lightly sculpting the finished base wine, before blended with a small selection of other vintages to create our desired 'house style'. Bottling was carried out via the transfer method with a modest dosage of sugar.
This bubbly addition to the Crittenden wine family is now available for tasting at our Wine Centre and also to purchase online. We'd highly recommend this is a drop best enjoyed simply with family and friends, maybe an antipasto plate and a dose of sunshine too – the perfect ingredients for a little 'la dolce vita' we're all in need of right now!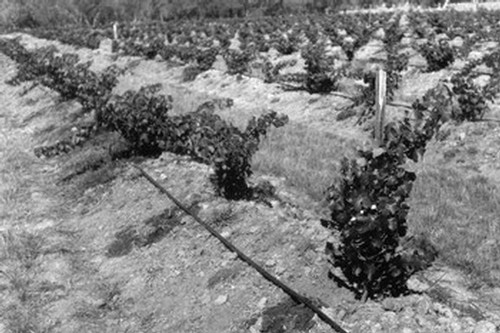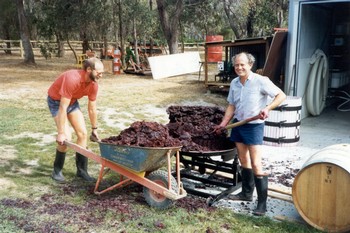 With COVID-19 a part of our lives many of us are reflecting our childhoods and becoming a touch nostalgic.
Zoe reflects on her time growing up in the eighties on a vineyard and her parents established Crittenden Estate. Click here to read.
Crittenden Estate are loving our network of local restaurants, cafes and bars mixing things up in this iso-era. Not only do we love that our wines are part of their new look offering, some have also started initiatives to give back to our local community – now that's our kind of partner! If you're on the Mornington Peninsula check out some of our favourite places:
Mercetta, Mornington
Mercetta are supporting local farmers and producers with their range of fresh Produce Boxes full of all the essentials. They're also contributing $25 from every Box sold to their Feeding The Frontline Project – delivering fresh produce, meals, treats and coffee to frontline healthcare workers at The Bays, Frankston and Rosebud Hospital.
There's three Produce Boxes to choose from and contactless delivery is free to local Peninsula areas call 5975 1714 to place an order. Their full menu is also available for pickup or select delivery, visit ordermate.online/mercetta/menu
D'oh Pizza, Blairgowrie
D'oh Pizza's menu of gourmet pizzas, seafood & classic Italian meals are available for takeaway or delivery. They've extended their takeaway menu to include different daily specials plus ready-made and frozen meals to keep your fridge full. Order any two of their daily specials and you can pick up a bottle of our Geppetto wine for only $20! Call them on 5988 8089 to order or visit www.pizzadoh.com.au
Counting House Bar & Grill, Mornington
With a menu focused on classic favourites, Counting House are now offering great take home food and wine, including our Geppetto NV Brut and Crittenden Estate Chardonnay. For pick-up and delivery call 5975 2055, 4-9pm Mon - Sat nights or visit www.countinghousemornington.com.au
Dava Thai, Mornington & Frankston
Dava Thai Mornington & Frankston are open 7 days a week for takeaway orders. Our wines are also available for your takeaway orders – so why not pair up your favourite Thai dishes with your favourite Crittenden wines! Online orders at www.davathaifood.com.au
The Grand Hotel, Mornington
You can now 'drive thru' at The Grand Hotel to pick up items from a new takeaway menu. Enjoy their classic roast chicken, lasagne or burgers and grab a bottle (or two) of easy drinking Geppetto as you swing past too. Call 5975 2001 to order lunch 12-2:30pm or dinner 6-8:30pm. Menu available at www.grand.net.au
Winey Cow, Mornington
Winey Cow are offering pick up and delivery of all their menu favourites including wine to the Mt Martha, Mornington and Mt Eliza area. To help family meal time, they're also offering a Family Dinner Special for four people with a changing weekly menu. Orders can be made before 12pm for delivery or pick-up after 5pm. Call 5976 4018 or order online at https://www.thewineycow.com.au/
And if that wasn't already enough good news, they've also launched the "Grow to Give" campaign. Donations made to the campaign are used to provide hot meals, delivered to those in the Local Community doing it tough and in need.
Tio Tapas Mornington
It's no secret we love all things Iberian, and our amigos at Tio Tapas are now offering take away and delivery of all their Menu Favourites from Thursday to Sunday. You can order via www.tiotapas.com.au or say hola on 5904 6937.
Via Boffe Mornington
Their chefs are creating loads of old fashioned sweet treats to go with their great coffee plus take away meals. They'll even bring them out to your car! Open every day 7am-2pm at 72 Main Street, Mornington, give them a call on 5975 7499.
La Onda Latin Mex
This local buzzing favourite in Dromana is re-opening for Take Away with their favourite dishes + taco packs, burritos and elote loco (they've even released their own soundtrack on Spotify so you can recreate their good time vibes at home). Hit them up on Instagram @laonda_latinmex to work out what to order.

December 3, 2019 Dromana, Mornington Peninsula – Mornington Peninsula-based family owned winery Crittenden Estate has received one of the world's most significant awards recognising outstanding sustainable growing practices and wine quality.
Crittenden Estate has been named as the overall "platinum" winner of the 2020 BRIT/FIVS International Sustainable Winegrowing Competition, chosen in first place amongst a high calibre field of sustainability-minded wine producers from around the world.
The BRIT/FIVS International Sustainable Winegrowing Competition is jointly run by the Botanical Research Institute of Texas and FIVS, a Paris-based international federation of sustainability-minded wine organisations.
The competition recognises wine producers taking a leading role in developing and implementing sustainable practices, while building strong connections with their communities and sharing their learnings across the wider wine sector. Entries are submitted annually from many wine producing countries in both the Northern and Southern hemispheres.
To read more, click here.