December 3, 2019 Dromana, Mornington Peninsula – Mornington Peninsula-based family owned winery Crittenden Estate has received one of the world's most significant awards recognising outstanding sustainable growing practices and wine quality.
Crittenden Estate has been named as the overall "platinum" winner of the 2020 BRIT/FIVS International Sustainable Winegrowing Competition, chosen in first place amongst a high calibre field of sustainability-minded wine producers from around the world.
The BRIT/FIVS International Sustainable Winegrowing Competition is jointly run by the Botanical Research Institute of Texas and FIVS, a Paris-based international federation of sustainability-minded wine organisations.
The competition recognises wine producers taking a leading role in developing and implementing sustainable practices, while building strong connections with their communities and sharing their learnings across the wider wine sector. Entries are submitted annually from many wine producing countries in both the Northern and Southern hemispheres.
To read more, click here.

We're delighted to be in the top 7.9% of wineries Australia wide, according to James Halliday, earning five red starts yet again. Furthermore, a number individual wines in our portfolio scored exceptionally well and Rollo is, as you'd expect, incredibly pleased. Click here to read our full winery listing as seen in the 2020 Halliday Wine Companion, including all wines scoring 94 points and above.
Join us for our Pop-Up Cellar Door at Project 49, one of Collingwood's favourite food and wine venues. Explore some of our latest releases and new vintages, cool climate classics as well as our Spanish and Italian varietals.
For only $20 you'll enjoy a hosted tasting of up to 12 Crittenden Estate Wines, paired with a charcuterie plate specially crafted by the Project 49 team.
Meet the winemaker, Rollo Crittenden, and the team from Crittenden Estate.
Crittenden Wine Alliance Club special pop up pricing.
Saturday and Sunday September 7th & 8th 12 - 5pm
Project 49 - 107 Cambridge Street, Collingwood, Vic.
Bookings - /product/Pop-up-Cellar-Door-2018-Copy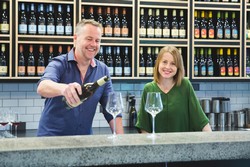 Every Friday, Rollo will head into the cellar of over 1000 wines to open back vintages of our acclaimed Pinot Noir, Chardonnay and Cri de Coeur collection, plus some Italian & Spanish wine varieties.
Wine lovers will enjoy the chance to try limited release and museum wines not normally available at usual cellar door tastings. Order by the glass or sample a wine flight of Rollo's selections that he'll pick each Friday, alongside an antipasto plate of cured meats, olives and cheese from our favourite local producers on the Peninsula.
FRIDAYS IN AUGUST
4.30pm-6.30pm
Cellar Door open late for wines from the 'Old & Rare Cellar', current releases
Wines from $12 per glass
Antipasto plate for two $20
Drop on in….
From a young age, growing up in the Crittenden household, my brother Rollo and I were subject to many a dinner party. It was the eighties and the raucous laughter would waft up the stairs. Sunday morning would see us fossicking through the debris, ever hopeful we'd uncover an unnoticed after dinner mint. Perhaps you can relate. Mum, Margaret Crittenden, was known for the amazing food she was able to whip up in the kitchen whilst the wine Dad was making from his newly planted vines would complement the dishes beautifully. The perfect team.
Perhaps that's why, 35 years on, events and dinners at Crittenden Estate are such an important part of what we do. Rollo and I, having grown up with it, simply love to entertain. Many appreciate the emotive influence that food and wine has in our lives. Often shared with those we love it has the power to evoke an array of senses.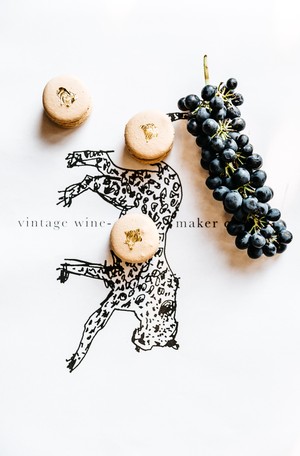 On March 16th, guests were treated to an event that surmises all that we do here at Crittenden – create an amazing experience for our guests. As part of The Melbourne Food and Wine Festival we teamed up with Guy Mirabella from ShopAte in Mount Eliza to create not just a dinner but an experience for those who attended. We called it The Cook and The Winemaker.
Guy and his food is an institution on the Peninsula. His cooking is superb. But more than that, Guy is creative and artistic; evident in the food he prepares. We knew he would be the perfect partner to take this dinner to the next level.
In the thick of harvest guests were able to witness vintage in real time. The evening commenced in the winery with a cocktail made from local Bass & Flinders gin along with Pinot Noir "grape must", fresh from this year's crush.
Developing relationships is fundamental between nature, the winemaker and the cook. These threads were entwined on the night and guests were treated to an artistic and sensory feast. Music, chosen by Guy, introduced each course and menus were quirkily crunched in a ball at place settings. The wine was carefully matched and flowed in abundance; nine premium wines, three of these sneak peaks into wines not yet released.
Events at Crittenden are an important part of what we do, although they are but one component of the experiences those who are a part of the broader Crittenden family can enjoy. Perhaps after reading this you're lamenting that you missed out. Please don't, there will be more. Stay tuned to our website to keep up to date with the events that we do here and in the meantime, come and enjoy some of the other experiences on offer at Crittenden. Our custom built Wine Centre offers seated tastings in comfort where you can discover the vast array of styles we offer. This, we believe, is an experience in and of itself. The Crittenden Wine Centre is open daily from 10:30 until 4:30 and we look forward to welcoming you.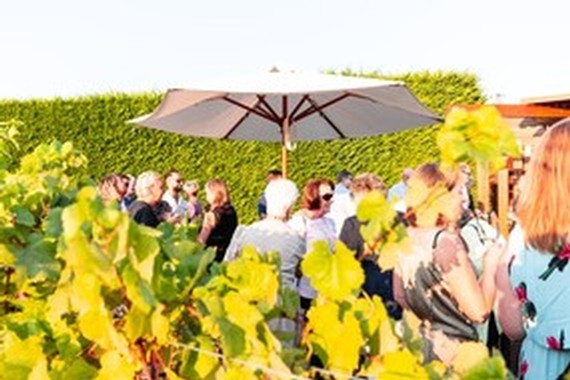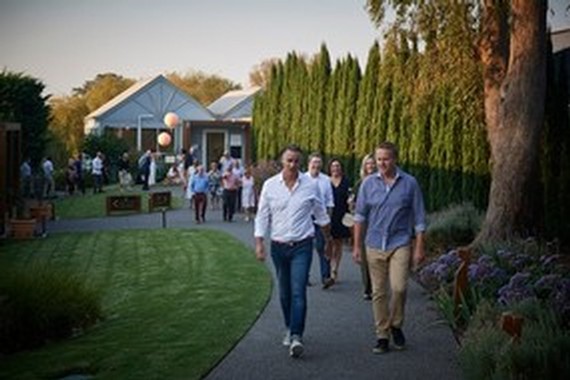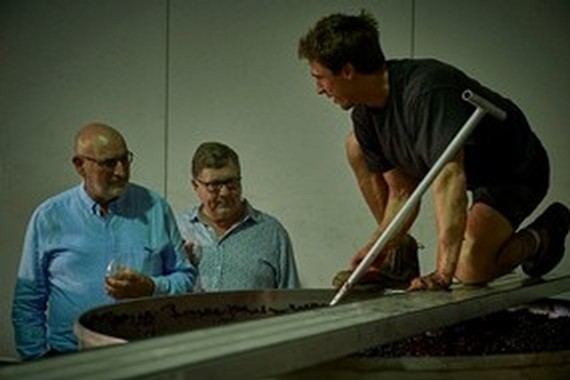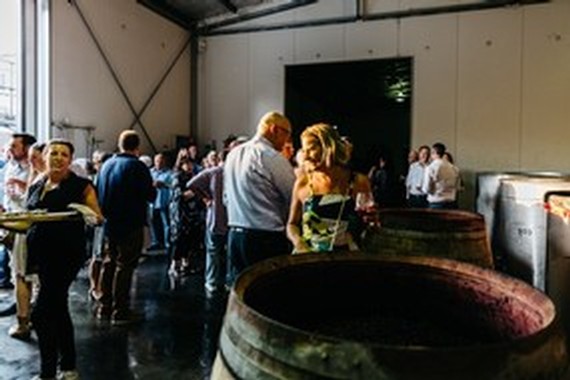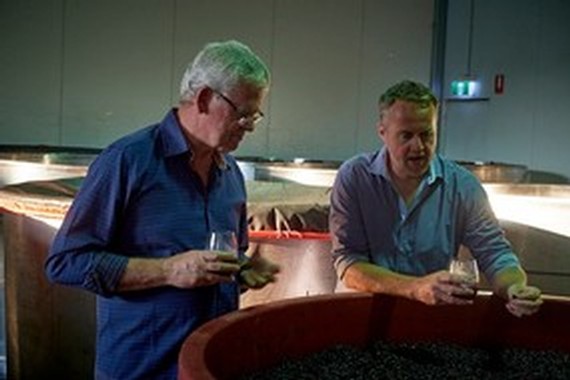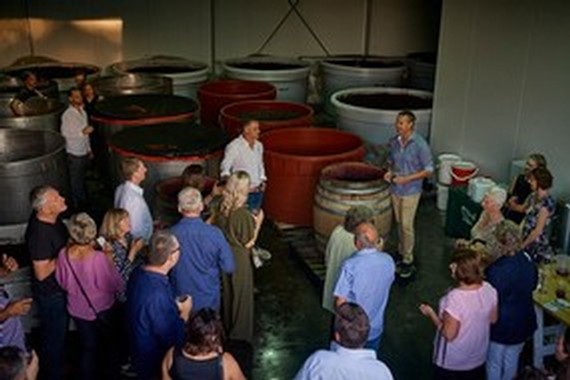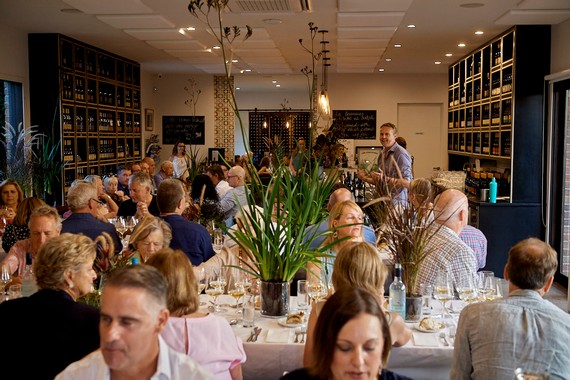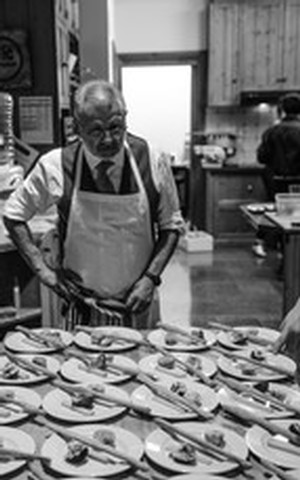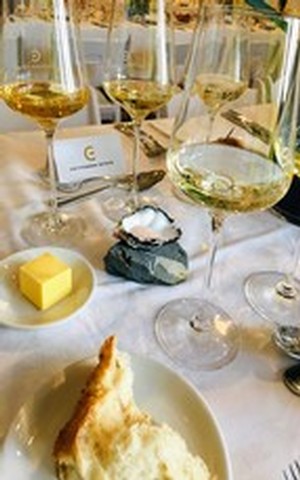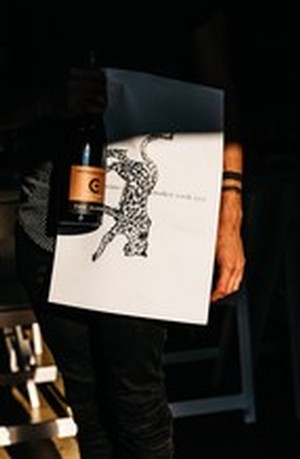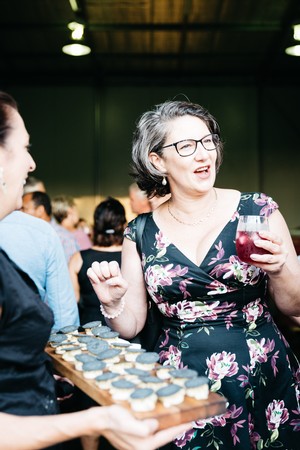 The esteemed wine writer Max Allen has written an article on Garry Crittenden's feature wine "The Big Chair" in the Australian Financial Review. Click here to read.
Have you taken flight on The Eagle at Arthurs Seat yet? Indulged your senses at our onsite accommodation Lakeside Villas at Crittenden Estate? Combine the two along with a VIP Wine Experience here at The Crittenden Wine Centre and ensure that your stay on the Peninsula is one that refreshes all of your senses....
The package for two includes:
* 2 nights accommodation in a luxury Lakeside Villa.
* Bottle of Crittenden sparkling wine chilled on arrival.
* VIP Wine tasting for 2 people in the award winning Crittenden Wine Centre Breakfast hamper with locally sourced Peninsula produce.
* Locally produced 'olieve & olie' organic skin products gift hamper.
* Return flight for two adults on The Eagle at Arthurs Seat.
Mid week 2 night stay - $720 per couple, Weekend stay - $1020 per couple. Not available from 24 July - 4 August due to maintenance works on The Eagle. Click here for more details.
Wallara is an innovative, sector leading support service based in Melbourne's south-east suburbs. Their official website is www.wallara.com.au. A dinner and Auction night on the 23rd of March is to raise funds to assist with this wonderful organisation's efforts to assist those in our community who have a disability "live the life they want to lead". We are proudly donating all wine for the evening. Tickets for the evening are $295 but have unfortunately sold out.
Measured against 34 premium Mornington Peninsula Pinot Noirs Crittenden Estate's 2015 The Zumma Pinot Noir was awarded gold at the Mornington Peninsula Vigneron's Association Wine Show Pinot Noir 2015 class and was the second highest scoring wine receiving 96 points out of a possible 100.
This wine is available to Wine Alliance members only prior to its official release. Click here if you are a member and wish to purhcase, then ensure you log in wtih your member username and password.