From a young age, growing up in the Crittenden household, my brother Rollo and I were subject to many a dinner party. It was the eighties and the raucous laughter would waft up the stairs. Sunday morning would see us fossicking through the debris, ever hopeful we'd uncover an unnoticed after dinner mint. Perhaps you can relate. Mum, Margaret Crittenden, was known for the amazing food she was able to whip up in the kitchen whilst the wine Dad was making from his newly planted vines would complement the dishes beautifully. The perfect team.
Perhaps that's why, 35 years on, events and dinners at Crittenden Estate are such an important part of what we do. Rollo and I, having grown up with it, simply love to entertain. Many appreciate the emotive influence that food and wine has in our lives. Often shared with those we love it has the power to evoke an array of senses.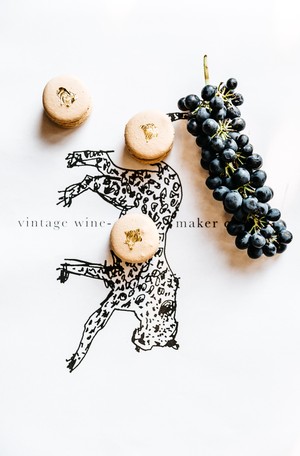 On March 16th, guests were treated to an event that surmises all that we do here at Crittenden – create an amazing experience for our guests. As part of The Melbourne Food and Wine Festival we teamed up with Guy Mirabella from ShopAte in Mount Eliza to create not just a dinner but an experience for those who attended. We called it The Cook and The Winemaker.
Guy and his food is an institution on the Peninsula. His cooking is superb. But more than that, Guy is creative and artistic; evident in the food he prepares. We knew he would be the perfect partner to take this dinner to the next level.
In the thick of harvest guests were able to witness vintage in real time. The evening commenced in the winery with a cocktail made from local Bass & Flinders gin along with Pinot Noir "grape must", fresh from this year's crush.
Developing relationships is fundamental between nature, the winemaker and the cook. These threads were entwined on the night and guests were treated to an artistic and sensory feast. Music, chosen by Guy, introduced each course and menus were quirkily crunched in a ball at place settings. The wine was carefully matched and flowed in abundance; nine premium wines, three of these sneak peaks into wines not yet released.
Events at Crittenden are an important part of what we do, although they are but one component of the experiences those who are a part of the broader Crittenden family can enjoy. Perhaps after reading this you're lamenting that you missed out. Please don't, there will be more. Stay tuned to our website to keep up to date with the events that we do here and in the meantime, come and enjoy some of the other experiences on offer at Crittenden. Our custom built Wine Centre offers seated tastings in comfort where you can discover the vast array of styles we offer. This, we believe, is an experience in and of itself. The Crittenden Wine Centre is open daily from 10:30 until 4:30 and we look forward to welcoming you.